How to get to Crikvenica
We are glad that you have chosen to come to the Crikvenica. Here are some tips about how to plan your travel to come here. We hope that this document will tell you everything you need to know.
Croatia is one hour ahead of British time, which makes it six hours ahead of Eastern Time in North America. Holidays in Croatia are New Year's Day, Orthodox Christmas, Easter Monday, Labour Day [1 May], Statehood Day [30 May], Croatian National Uprising Day [22 June], Feast of the Assumption, All Saints Day, and Christmas.
If you are in Europe, it is possible to drive to Crikvenica, but you will need to make sure that you have an insurance "green card" which specifically covers you for Croatia and Slovenia, otherwise you will be required to buy a green card at the Slovenian border. If you are driving, Crikvenica is about 40 kilometres south of Rijeka on the Adriatic Coast.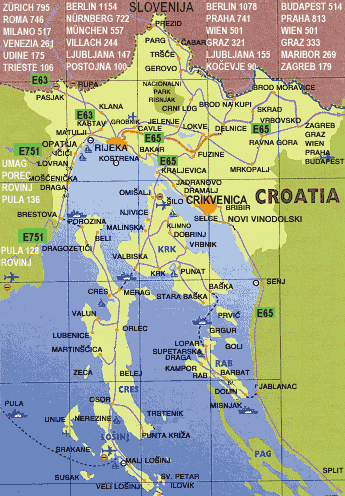 If you are taking the train, there are daily trains to Zagreb from Budapest, Munich, and Vienna. There are daily trains to Rijeka from Budapest, Munich, and Salzburg. From Paris or Brussels, there are daily trains to Mestre station in Venice. (If you wish to take the "Eurostar" train through the Channel Tunnel, then you can connect on to Venice from either Paris or Brussels.)
From Mestre, trains run to Trieste at least once per hour between 05:30 and midnight. The train costs 12,100 lire, and takes about two hours.
From Zagreb, take the train to Rijeka. The express train takes about four hours, and costs about 60 kuna. However, there are only two express trains to Rijeka per day. The local train can take up to six hours to get to Rijeka.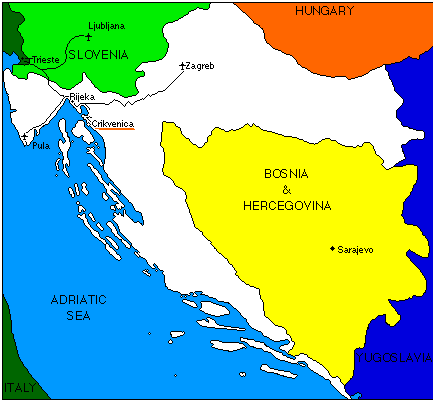 If you are flying, you can fly into Venice in Italy, Ljubljana in Slovenia, or Zagreb or Pula in Croatia.
From Venice airport, take blue ATVO bus to the train station at Mestre. From Mestre, take the train to Trieste.
From Ljubljana, Adria Airways provides a shuttle bus from the Ljubljana airport to Rijeka for Adria Airways passengers. Even if you are not flying Adria Airways, you can take the shuttle if they are already making the trip for Adria passengers. Adria Airways can be reached in London at 4370143, or 7344630, or by fax at 2875476. (Within the UK, dial 0171 first. Outside the UK, dial your international dialling code, then 44-171.) or look at http://www.croatiaairlines.hr/ If the shuttle times are inconvenient for you, take the bus into Ljubljana, and again take the train or bus to Rijeka, whichever will be faster.
From Pula, take the bus to Rijeka.
From Zagreb airport, Croatia Airlines run shuttle buses directly to their office in Rijeka (near the bus station) twice a day, at 15:30 and 16:30. If this does not mesh with your arrival time, take the Croatian airlines shuttle bus to the bus station. The shuttle bus costs 20.00 kuna. At the bus station, ask for the bus to Crikvenica via Gornje Jelenje. The buses run several times per day, take about 4 hours. If there are no more buses via Gornje Jelenje, take the bus to Crikvenica via Rijeka. (The bus via Rijeka takes about an hour longer, and you will need to change buses in Rijeka.) You will need to pay 6.00 kuna per bag to check your luggage under the bus.
Alternatively, you can go to the train station and take the train to Rijeka. To get to the train station from the bus station, you can take a taxi or the the tram. Tram lines 2, 3, and 6 run between the bus station and the train station. As you are standing at the tram stop, facing the bus station, you want the trams which are coming from your left and heading towards your right.
In Trieste, the train station and the bus station are located right next to each other. There are four buses per day from Trieste to Rijeka (which is called Fiume in Italian.) The first bus leaves Trieste at 08:30, and the last at 19:15.
When you get to the train station in Rijeka, go out the front doors, and turn right. The bus station is 500 metres down the road on the right hand side of the street. Buses leave for Crikvenica 16 times per day. You can check your bags under the bus for 5 kuna per bag.
Thanks to: Life Center Crikvenica
LINKS:
CROATIA AIRLINES
JADROLINIJA - TIMETABLE (FERRIES)
CROATIAN RAILWAYS - TIMETABLE
CROATIAN BUS LINES
Crikvenica Info E-mail: crikvenica@crikvenica-info.com